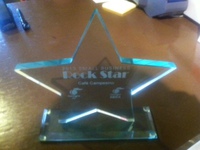 AMERICUS (August 22, 2013) – Café Campesino is one of six companies that was recognized as a "Small Business Rock Star" in Atlanta on Monday by the Georgia Economic Developers Association (GEDA) and the Georgia Department of Economic Development (GDEcD). Nearly 50 companies competed for the title, which lauded outstanding, unique and impactful small businesses in the state of Georgia.
"It's important to honor companies whose best practices help set the state apart as a nurturing environment for small business," said Mike Pennington, president of GEDA, which collaborated with the GDEcD to host this first-time event that highlighted innovative entreprenuers across the state.
"Entrepreneurs find where there's a need and work to fill that need," said Lt. Gov. Casey Cagle, who spoke at the Aug. 19 luncheon at the Renaissance Atlanta Midtown Hotel that honored the winners.
A local need for sustainably sourced, high quality, organic coffee prompted Bill Harris to start Café Campesino in 1998. Mr. Harris accepted the award for Café Campesino on Monday and highlighted its work to honor small farmers "who work harder than any of us here" as the driving force behind his business. He also noted that the company's simple business philosophy – to "treat others as you would like to be treated" was at that heart of everything Café Campesino does.
"We are a company that measures its success based on its relationship with the three P's– profits, people and the planet," Mr. Harris said to the more than 100 public officials and econonomic developers attending the luncheon, who included newly appointed Department of Community Affairs Commissioner Gretchen Corbin, as well as Lt. Gov. Cagle.
Deeply committed to developing small business in the Americus and Sumter County region, Mr. Harris expressed his gratitude to the state and local entities that have provided Cafe Campesino with support along the way. He cited the Department of Community Affairs, the Americus-Sumter Co. Chamber of Commerce, the Americus Sumter Payroll Development Authority, South Georgia Technical College, the Georgia Department of Economic Development and the City of Americus as being strong supporters of Café Campesino.
Café Campesino also underscored the importance of these entities and the tremendous opportunities for entrepreneurship it sees in small towns across Georgia during the Aug. 14-16 Georgia Downtown Association conference it attended in Savannah where it served on a panel that highlighted craft industry and agritourism in Georgia downtowns. Pladd Dott, a Statesboro-based music company and guitar manufacturer and the Savannah Bee Co., a retailer and wholesaler of sustainably sourced honey and skin-care products, were also on the GDA craft industry panel.
Other "Small Business RockStars" winners included Laurie Jo's Southern Style Canning, located near Moultrie; FactoryMation of Canton; Azalea Health of Valdosta; Restaurant Interiors of Jasper and Atlanta Light Bulbs of Tucker.
Nema Etheridge of Café Campesino, Angela Westra, director of chamber development, Americus Sumter County Chamber of Commerce and Mr. and Mrs. Bill Harris Sr. accompanied Mr. Harris to the award luncheon.
Small Business RockStars is a collaboration between GEDA and the GDEcD to recognize outstanding, unique and impactful businesses with fewer than 50 employees across the state.
About Café Campesino
Cafe Campesino is a fair trade, organic coffee company that is based in Americus, Georgia. It was founded in 1998 after Americus resident Bill Harris traveled to Guatemala with Habitat for Humanity. Today, Café Campesino sources coffee from small-scale farmer living in more than 10 countries around the world and sells freshly roasted coffee to customers across Georgia and the United States. It is headquartered in Americus where it operates a roasting facility and coffee shop. www.cafecampesino.com
About GEDA
Celebrating 50 years of service excellence, the Georgia Economic Developers Association is the leading professional organization advancing Georgia's economic vitality. GEDA is a non-profit association of professionals, volunteers and supporters. The association provides networking and professional development opportunities for its members, and supports public policies that promote quality job creation and sustainable economic development throughout the state. For more information, visit www.geda.org.
About GDEcD
The Georgia Department of Economic Development (GDEcD) plans, manages and mobilizes state resources to attract new business investment to Georgia, drive the expansion of existing industry and small business, locate new markets for Georgia products, inspire tourists to visit Georgia, and promote the state as a top destination for arts events and film, music and digital entertainment projects. Visit www.georgia.org.